If you hold a 2-year or 4-year degree or higher from an accredited college or university, you're eligible for membership in AAUW. Ask about student affiliate and recent graduate memberships.
Membership Dues
The annual membership fee is $100.00, covering July 1 to June 30
Signup between Jan. 1 through March 14 and the fee is $70.50
Signup March 15 through June 30 and the fee is $100.00, and your membership runs through June of the following year (15-1/2 months of membership)
Special offer! Join at an AAUW event and dues are only $70.50 for your first year of membership (a calendar of activities is listed on this website).
To apply, please use this downloadable application form.
Mail with your check payable to "BBV-AAUW" to:
AAUW
PO Box 793
Big Bear Lake, CA 92315
Email any questions to bbvaauw@gmail.com.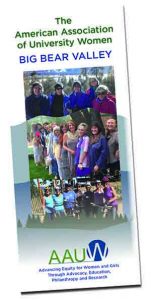 Click on the link below to view or print out our brochure: