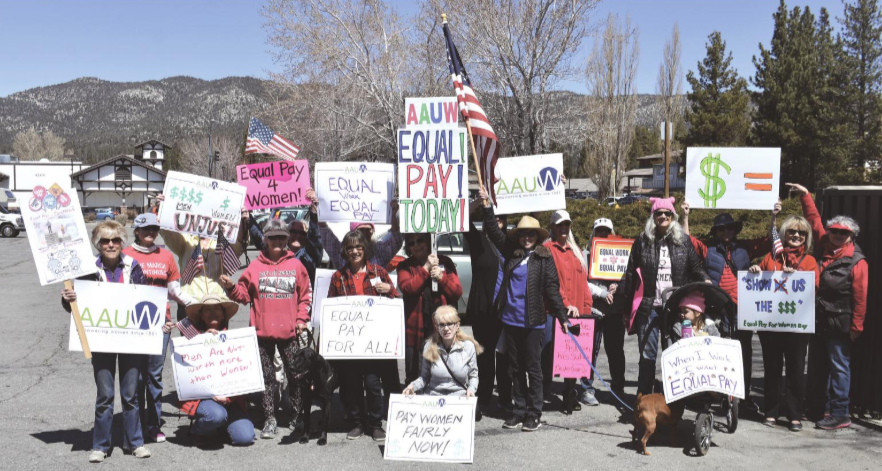 EQUAL PAY DAY—APRIL 2, 2019

AAUW-BBV marches in support of closing the gender wage gap.
Photos and article courtesy of The Big Bear Grizzly.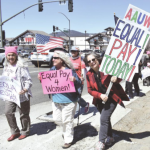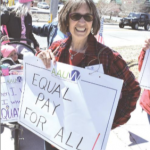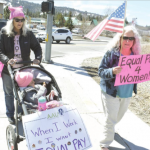 ---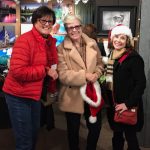 Take a few minutes to explore this official website of the American Association of University Women, Big Bear Valley Branch. Learn how we fulfill our mission of empowering Valley women and girls through projects, activities and fundraising, and our members' involvement in the community. AAUW-BBV is over 100 members strong. Join us.
---
Upcoming Activities
AAUW Mah Jongg – Every Thursday at 1:30 Contact Deanna (See Member Roster)
April 24th 5:30 DINE OUT Wyatt's (See Flyer)
April 29th 5:00 to 7:00 pm MARGARITA MONDAY at Sonora Cantina
May 4th 11:00 to 1:00 ART CLASS CALLIGRAPHY (See Flyer)
May 7th 11:30 to 1:30 PROGRAM COMMITTEE MEETING at The Social
May 13th 10:30 to Noon AAUW KNITTING CIRCLE NEW LOCATION (See Flyer)
May 13th 3:00 to 4:30 EASY WRITERS Teresa Georgi's House Contact Mary Marich for information
May 14th 9:00 am HIKE at Eye of GOD  (See Flyer)
May 15th 6:00 to 8:00 pm GAME NIGHT Dice Games (See Flyer)
May 16th 10:30 – 11:30 LUNCH and LEARN Pickelball (See Flyer)
May 16th Noon LITERATURE GROUP at The Old Country Inn, (See Flyer for Book Titles)
May 20th 2:00 to 4:00 pm DRAMA at Linda Quiroz's house
May 27th 5:00 to 7:00 pm MARGARITA MONDAY at Sonora Cantina
May 28th at 5:30 DINE OUT at Sonora Cantina (See Flyer)
SAVE THESE DATES
June 9th AAUW Annual Luncheon (See Flyer)
August 24th Women in the Arts
September 28th Guest Speaker on Human Trafficking
December 15th AAUW Holiday Party
The American Association of University Women (AAUW) has been empowering women as individuals and as a community since 1881. For more than 140 years, this national grassroots organization has worked to improve the lives of millions of women and their families. Members examine and take positions on the fundamental issues of the day facing women and girls— educational, social, economic, and political.